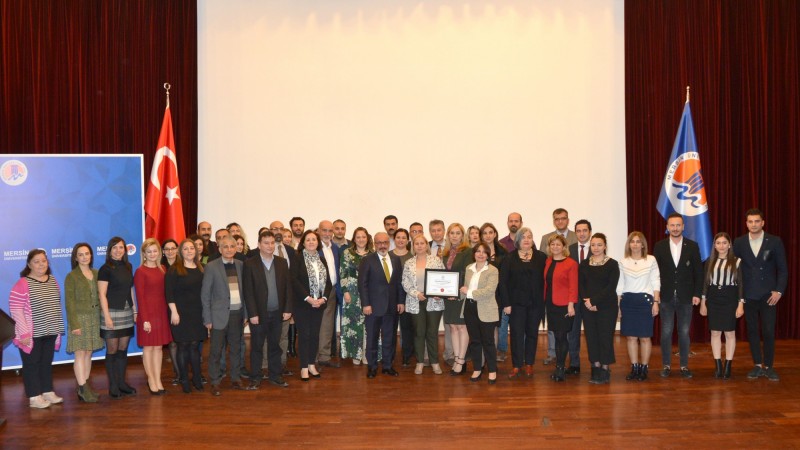 Mersin University Faculty of Pharmacy was established by the Council of Ministers Decision No. 2000/854 of June 2, 2000 according to the Law No. 2809 dated 28.03.2000 supplement of article 30th, published in the Official Gazette on July 13, 2000 and started to training in the 2001-2002 academic year following the assigning of the Dean in August 2, 2000.
Educational activities are continued in 8 laboratories for students and a computer classroom in addition to classrooms 4 of 70 persons and 1 of 80 persons in our faculty, which is located in Block C of Mersin University Yenişehir Campus.
Our faculty comprises three academic units and the departments attached to them, Section of Professional Pharmaceutical Sciences (Department of Pharmacognosy, Department of Pharmacology, Department of Pharmaceutical Chemistry, Department of Pharmaceutical Toxicology), Section of Pharmaceutical Technology (Department of Pharmaceutical Technology, Department of Pharmaceutical Biotechnology) and Section of Basic Pharmaceutical Sciences (Department of Analytical Chemistry, Department of Biochemistry, Department of Pharmaceutical Microbiology), respectively. Education at the undergraduate and graduate levels is carried out by 7 professors, 7 associate professors, 9 assistant professors, 1 expert and 8 research assistants worked in our faculty.
There are currently 363 students at Mersin University Faculty of Pharmacy.
Students take compulsory and elective courses during the 5 years of education and learn medicines and raw materials synthesis and their quantitative and qualitative analyzes, quality control and standardization. Furthermore, they can inform patients about rational drug use.
And also, creative, engaged in research and principled pharmacists are trained in our faculty whom are ready to postgraduate education, capable of generating scientific knowledge and can use the scientific knowledge produced by themselves.
Both the elective courses offered by our faculty and the graduation research projects prepared by the students enables the graduates of the Faculty of Pharmacy to be principled in their professional issues and to be effective in interdisciplinary studies.
Graduates of the Faculty of Pharmacy are employed as responsible manager and administrator in the production units, business development and pharmacovigilance departments, regulatory affairs and research & development areas, quality control laboratories of the pharmaceutical and cosmetic industry.
The graduates who are experts in radiopharmacy can be employed in TAEA (Turkey Atomic Energy Agency), TUBITAK (Turkish Scientific & Technical Research Institute) and in other radiotherapy centers.
Faculty of Pharmacy graduates can work in institutions such as TUBITAK MAM (Turkish Scientific & Technical Research Institute, Marmara Research Center), in the field of preparation of biotechnological products (drugs, biomaterials and diagnostic kits) and characterization, in case of to specialize in pharmaceutical biotechnology.
They can find employment opportunities in the Ministry of Health such as lisensing of the human, veterinary and biotechnological drugs, cosmetics and medical devices, in the bioavailability-bioequivalence studies, in the preparation of the biosafety protocols and audit departments. They can choose to work in their own drugstores.
Opportunities are available to work as a pharmacist in hospitals for graduates.
In addition, students are eligible to work as an academic staff beside to take the postgraduate training in universities in case of acquired the adequate score from the required exams.In our faculty, particular significance has been given to student and academic staff exchange agreements in the framework of the Erasmus Programme as well as to international collaborations both in education and research.